Our Story | Spot On Plumbing – Plumbers in Tulsa and Broken Arrow
Brandon founded Spot On Plumbing in February of 2017. After working for a couple of different plumbing service companies in Tulsa he began to want change for the industry. Brandon began a mission to be focused on people rather than business. Solutions rather than quick fixes. Brandon is celebrating 15 years of marriage with his wife Caitie. They currently reside in Broken Arrow, Ok where they have an 11 year old son Caidon. Caidon attends Lincoln Christian School where he is an honor student and plays on the Elementary basketball team. Brandon and his family attend Church on the Move in Tulsa, Ok.
Brandon Brown is a highly skilled plumber and a valuable member of the team at Spot On Plumbing of Tulsa. With over a decade of experience in the industry, Brandon has established himself as a trusted expert in all aspects of plumbing.
Throughout his career, Brandon has consistently demonstrated a strong commitment to providing exceptional customer service. He takes the time to listen to his clients' needs and concerns, and always works diligently to find the best solutions to their plumbing issues.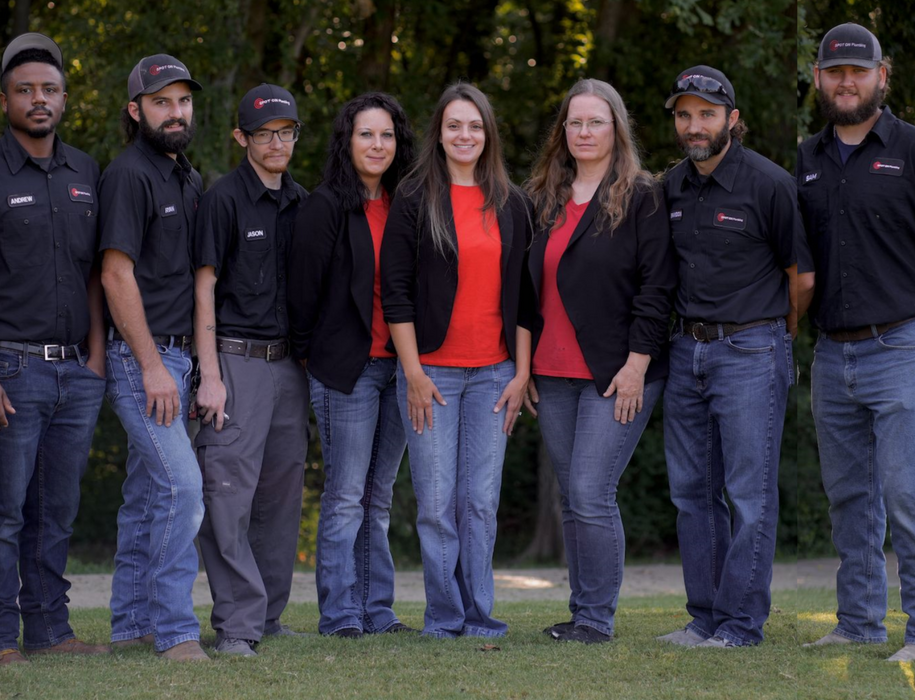 Brandon is known for his meticulous attention to detail and his ability to diagnose even the most complex plumbing problems quickly and accurately. He is dedicated to staying up to date with the latest technologies and techniques in the field, and is constantly expanding his knowledge and skills to better serve his clients.
Whether he is working on a routine maintenance project or tackling a major plumbing emergency, Brandon approaches every job with the same level of professionalism, integrity, and dedication. His friendly demeanor and can-do attitude make him a pleasure to work with, and he consistently goes above and beyond to ensure that his clients are completely satisfied with his work.
Overall, Brandon Brown is an outstanding plumber who is deeply committed to providing the highest level of service to his clients. His expertise, professionalism, and dedication to his craft make him an invaluable member of the team at Spot On Plumbing of Tulsa.
Our Values:
Here at Spot On Plumbing, we strive to provide our customers with the highest level of service by being committed to our values:
Integrity:
Above all else, we have a high standard of integrity here at Spot On Plumbing. Have you ever felt ripped off by other plumbers Tulsa because you were not as familiar with the industry? Are you tired of wondering if someone is charging you way to much for a simple job? I remember a few years ago hearing about a news story where an undercover reporter set up some local plumbers to come fix a small leak on a water heater. The only thing that need to be done was the water supply line needed to be tightened, but almost all of the plumbers recommended a water heater replacement. That is terrible. At Spot On Plumbing we will always recommend the most cost affective and quality repairs. We have a high level of integrity. When we make mistakes we are always quick to admit it and do not charge customers for time spent fixing our mistakes.
Cleanliness:
We always clean up after ourselves when we are finished with a job. I had someone come work at my house once and they spit a big pinch of dip out on my sidewalk. I don't think it was that big of a deal but it was definitely not professional. That is not something you are going to get with Sot On Plumbing. Our goal is that our customers would not have to do anything once we are finished with a job. That includes sweeping or mopping up foot prints.
Dependability:
Do you ever call plumbers Tulsa and they don't call you back? Have you ever had a company tell you they were going to show up at a certain time and then they didn't show up. With Spot On Plumbing you can count on us to answer our phones and when we don't we will call you back. We also show up when we say we are going to. Sometimes due to the nature of plumbing we run a little behind but you can still count on us to give you a call to let you know that we are running behind. We know that often when you have a plumbing problem not only are you out the money for the repair but also you have to take off work to meet the plumber this is why it is so important for your plumber to show up when they say they are going to.
Always Improving:
At Spot On Plumbing we value self improvement as individuals and as a company. This means that we are always looking for ways to be more efficient and better at providing a great service to our customers. Codes today are not the same as they were 10 years ago and the same is true with technology. We are always looking for newer and better products as well as better tools in order to provide you with a better service. We improve by enrolling in classes provided by local code enforcement agencies as well as by the manufactures making the products we install. When you work with a company that is always improving you can be sure that you are getting efficient service and great products.